ID Card
Talk

0
159pages on
this wiki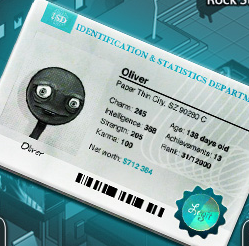 The Stick RPG 2 website has 4 things on it, a profession wheel, a link to Twitter and XGen, a city wallpaper (when you click on the "Graffiti Artist" occupation square), and a picture of an ID Card. The ID card shown on the website may or may not look like the actual in-game ID card, but the attributes listed on the card probably will be in the game.
The information shown on the card is:
- Name
- Special Ability - Your special ability is an ability you choose when starting the game. It affects things in the game, like increasing the speed you earn a stat, increasing the money of a job, or even making you moonwalk.
- Charm - mainly gained by getting drunk and smoking, charm was neccesary in the first version as it was the key to robbing a bank. In this game, it can get you certain jobs. This is also often recieved during missions.
- Intelligence - primarily gained by studying and going to class. This was once one of the only factors to get you a job in the original. Now, it's different but it's still required to finish certain missions.
- Strength - usually gained by kicking ass and going to gym to work out, strength used to be and probably still is major factor in fights. This is not exactly easy to gain by just going to gym without the beef cake ability.
- Karma - to gain karma, be a good boy. to become evil, act like the devil. Certain jobs require positive and certain require negative. Existed in the original (complete) but only changed the color of your character's head.
- Age (by game days)
- Achievments - how many awards won.
- Rank (either out of multiplayer or by some in-game standerd)
- Net Worth - how much money you've earned (totaled from estates, morgages, cash on hand, bank money)
Stick RPG
The stats page, which could be considered the ID card, from the original Stick RPG had the following:
- Job Title
- Charm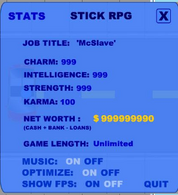 - Intelligence
- Strength
- Karma
- Net Worth
- Game Length (how long the current game will last, from beginning to end)
And included some game performance options:
- Music On/Off
- Optimize On/Off
- Show Frames Per Second On/Off