Jim's Gym is a building in the fourth island.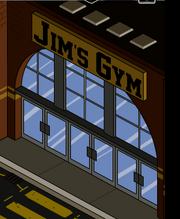 Inside you can find the Personal Trainer profession, the personal trainer (Trainer Kerry), and a lage boxing ring where you can fight the chainsaw club members (must have a chainsaw club membership from Tyler in The Dangling Pianist)  and several boxers from Easy Gym (located in the first island).
Jim's Gym is restricted to Director's Cut.
Ad blocker interference detected!
Wikia is a free-to-use site that makes money from advertising. We have a modified experience for viewers using ad blockers

Wikia is not accessible if you've made further modifications. Remove the custom ad blocker rule(s) and the page will load as expected.