The 
S.I.T. 
is situated on fourth island of 
Paper Thin City
. This place is a little bit the same like the U of S, but the 
S.I.T.
only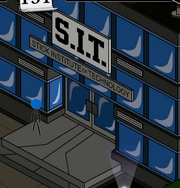 has the ability study and the teacher job. You can become a 
S.I.T. Professor
if you talk to Chancellor Dean with 900 Intelligence. You will get the Tesla Helmet if you max out the teacher jobs (Rocket Scientist) . 
S.I.T. 
is short for Stick Institute of Technology.
NPCs
Chancellor Dean - The Teacher of Paper Thin City. He's probably Manager and a Teacher. He offers you the option to become a teacher.
Fields - Nothing, really.
Foreman George - A architect, writing.
Professor Norton - You can pay him to study.
Cyrus - Nothing, study.
Hipster Hayden - Nothing, study.
Emily - Nothing, looks on the score board.
Nails - Nothing, study.
Ad blocker interference detected!
Wikia is a free-to-use site that makes money from advertising. We have a modified experience for viewers using ad blockers

Wikia is not accessible if you've made further modifications. Remove the custom ad blocker rule(s) and the page will load as expected.