Vinnie's
Talk

0
105pages on
this wiki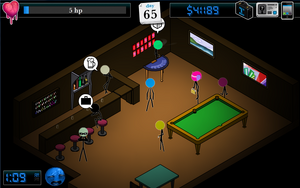 Vinnie's is a rather small bar establishment on the Third Island, Paper Thin City. The only buyable item is beer. At Vinnie's, you can get the job of Hitman. There appears to be a pool table and a Blackjack Dealer, though the pool table is just decoration. Vinnie's Goon can get you a Trophemon.
Vinnie - The notorious assassin with affiliations with the Eastside Mob. You can get the job of Hitman from him. As you may have noticed, the store is named after him and most likely owned by him.
Vinnie's Goon - Vinnie's bodyguard. You will get a Trophemon when you do what he asks.
Vinnie's Muscle - Presumably another employee of Vinnie.
Shady Bartender - Sells you beer for $90.
Lizzy - A close friend of Vinnie's, since she's asking the person next to her whether to kill some Westside Gang members.
Duncan - Attracted to Lizzy. Nothing else.